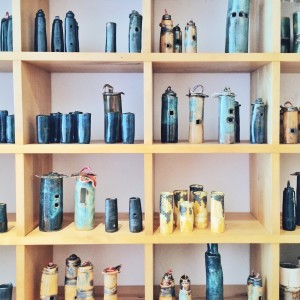 Sandra Menzies works almost exclusively in high firing stoneware and porcelain, with a variety of glazes and oxides.  As an experiment with familiar decorative objects, these small pieces are all stoneware and are designed to be displayed in clusters, although they will also work as stand-alones. Each piece is hand crafted, and is therefore unique. T&T has a variety of Sandra's ornamental pieces as well as vases and tealight holders.
Rob Jones is a textile designer and indigo dyer based in Alexandra Palace under the name Romor Designs. All textiles are either 100% cotton or silk and are made using traditional Shibori techniques. Shibori (meaning to wring or to squeeze in Japanese) involves resist dyeing using binding, stitch or clamping with a combination of cold water and acid dyes with natural Japanese indigo. Thanks to the hand-crafted nature of the work, every piece is unique. T&T has a large range of Rob's silk scarves, napkins and handkerchiefs.
Catherine Hampshire designs and screen prints her family of cute animal characters, under the name of Tobytogs. Tobytogs animals have been hand screen printed onto the 100% cotton baby and children's clothes and all the garments have been ethically sourced. From Max Monkey to Jasper Penguin, each one is full of character. T&T stock a range of
t-shirts, bodysuits and babygros.
Hazel McNab From printed silk tango skirts to cups and saucers, Hazel just can't help but decorate whatever surface is in front of her. Her love of lines and colour makes linocut printing a perfect medium for her creativity. T&T has a range of her whimsical dancing animals and Endangered Species reduction linocut prints, also available as greetings cards. Hazel has also painted over 1,000 hearts on her blog A Heart A Day at www.366hearts.com
Eliza Southwood specialises in printmaking, painting and illustration. Recent clients include Rapha, Magma, Bloomsbury, Laurence King Publishing, Sustrans and the V&A Museum. As well as her popular cycling prints, T&T is featuring her Oranges and Lemons print – selected for the London Transport Museum 'London Stories' exhibition.